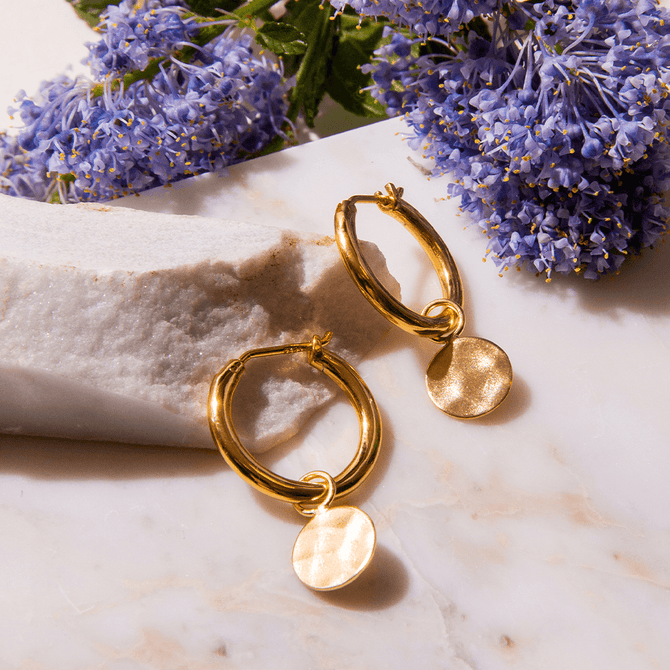 What is ethical jewellery and what are we doing to be a more sustainable jewellery brand?
We're focused on sustainable jewellery that is made from recycled silver, as well as gold and silver jewellery that has a sustainable concept. We do this via our interchangeable concept that allows you to up-cycle, as well as repurpose your gold or silver hoop earrings or necklaces by reinventing them to create more ethical jewellery.
Becoming a more responsible consumer and 'shopping greener' is something many of us vow to be better at on an almost daily basis. Whether it's with our grocery shopping, our clothes, or which jewellery we wear. But what are the principles behind ethical or sustainable jewellery? 
Being an ethical jewellery brand is about considering the impact on people and the planet at every step – from inception through to how the jewellery is worn.
We think that to achieve a better ethical status jewellery brands should consider the following:
Product materials – using sustainable materials (i.e. recycled, ethically sourced or lab-grown materials, looking at the provenance of raw materials)
Production processes – how the raw materials are processed to make the final product (how they're made, where and by whom, including the conditions and treatment of workers)
Packaging – the materials used in packaging the products 
Shipping
Energy consumption and carbon footprint 
The product itself – what it's designed for, how it's worn, whether it's pre-loved, vintage, interchangeable or multi-use
Business practices and operations – how the brand operates
Relationships – how it looks after its suppliers, staff and customers 
Designers and suppliers in the business of more ethical and sustainable jewellery lines have already made great strides in recent years but it's an ongoing conversation. 
WHERE WE'RE AT
When we founded NUE Hoops we made a conscious decision to be as ethically sound as possible - from product to packaging. We decided sustainability was something important to us because if we were going to set up a new business, we wanted to have a positive impact on the world. 
PRODUCT MATERIALS
As we've gone from side-hustle to a full-time operating business, NUE Hoops founder Victoria Darby (Mumma NUE, CEO and Product Director) has been implementing the switch to recycled silver across the range:  
"As our hoops are made exclusively for us, it was the first place where we could push for recycled silver to be used. Last year, we worked with our supplier to switch to buying recycled silver for the manufacture all of our classic hoops. This is now well established and we are delighted that all the collection is now made in this way. Our huggies, simple chains and bobble chains are also made from recycled silver. As well as selected charms currently made in Italy. The process of making jewellery often involves a lot of waste from offcuts. With our suppliers in Italy and in our UK workshop, offcuts are collected, melted down and reused. No purity is lost in the process of melting sterling silver from offcuts – it still produces a sterling silver outcome."
Our classic hoops also now have 'e-coating' – something that is becoming increasingly commonplace in the demi-fine jewellery market. An electrical current is used to cover the metal surface with an organic lacquer which protects the metal, ensuring it doesn't fade. This coating makes jewellery waterproof and therefore helps it retain its lustre, giving it a longer life. 
While we cannot yet claim that all our charms are made from recycled silver (to date around 41% of our charms are). The challenge with this is that we work with a diverse range of small suppliers buying relatively small quantities of each charm, and each supplier has their own established practices. We are constantly evolving towards a more sustainable line of charms though. Since introducing gemstones to our charm collection, we are working with a supplier who provides us with certified gemstones. We've introduced lab-grown sapphires, natural garnets, a natural amethyst, natural emeralds (coming soon) and a triple A-grade peridot (coming soon) to the collection. 
PACKAGING
Sourcing sustainable packaging for NUE Hoops was a well-trodden path and we were quickly able to produce 100% recyclable postage boxes. The boxes themselves are made from 60% recycled cardboard. For our fabric pouch, we looked into all sorts of natural fabrics like silk, cotton and bamboo but nothing was working in terms of the experience and the eco credentials. In the end, we settled on the faux suede made using recycled polyester which felt like the most economical and low impact option that created the right look and feel. Due to having a lot of repeat customers (each month we have around 35% repeat orders) we designed paper envelopes that are also recyclable so that customers who already had our jewellery pouches had an eco-friendly option (available at the checkout). Our loyal customers helped us with this move, as Emily Roberts (Head of Operations & Finance) explains: 
"When we grew quickly, our biggest spenders told us the pouch just wasn't necessary for every order – they had stacks of them. Changing this involved a rethink on our packaging and operational processes. We're nimble and pride ourselves on being responsive, so it felt good to know we were doing the right thing in this instance, so it was a good outcome for all."
THE PRODUCTION ITSELF
As a modular jewellery brand, durability and versatility are at the heart of what we do, building on core pieces – hoops, huggies and necklaces – and using recycled materials whilst promoting restyling has been key to us avoiding being part of the throw-away fast fashion culture. 
We believe you should be able to be stylish and feel happy about your consumption. We offer this more than any other jewellery brand because of the sustainable nature of our interchangeable concept.  
BUSINESS PRACTICES & OPERATIONS
Our future goals for NUE Hoops include setting up a recycling scheme for old jewellery (something that might be challenging, but something we feel strongly about). We also want to offer customers the option to get their existing hoops re-plated. Finding a way to encourage people to do this, while also being able to offer the service sustainably, will be key, as the cost of replating hoops is around 50% of the cost of a new pair. 
Probably the biggest areas we still have to tackle are supply chain transparency and decreasing our carbon footprint. Partnering with brands, charities and people who are trying to do something positive in the world will be integral to this.
The retail platform Farly.co is essentially a digital flea market where users can buy, sell and curate items through a virtual shop window. Our most sustainable items are listed on the platform in NUE Hoops' 'shoppable windows', that you can shop directly from. 
OUR ASPIRATIONS
We don't yet have the power or resources enjoyed by more established jewellery brands, but we do have the ability to be responsive and innovative. We have proven ourselves in this area in our three years and our intention is to carry on with that. By sharing our endeavours to make NUE Hoops increasingly sustainable, we are committed to being open with you, and communicating our sustainable journey in the hope that you'll come on it with us. 
Ultimately, our goal is to offer beautiful, cleverly designed jewellery which empowers you to be creative to wear it in new ways, giving it greater longevity and so that it continues to bring joy each time it is re-invented.
---