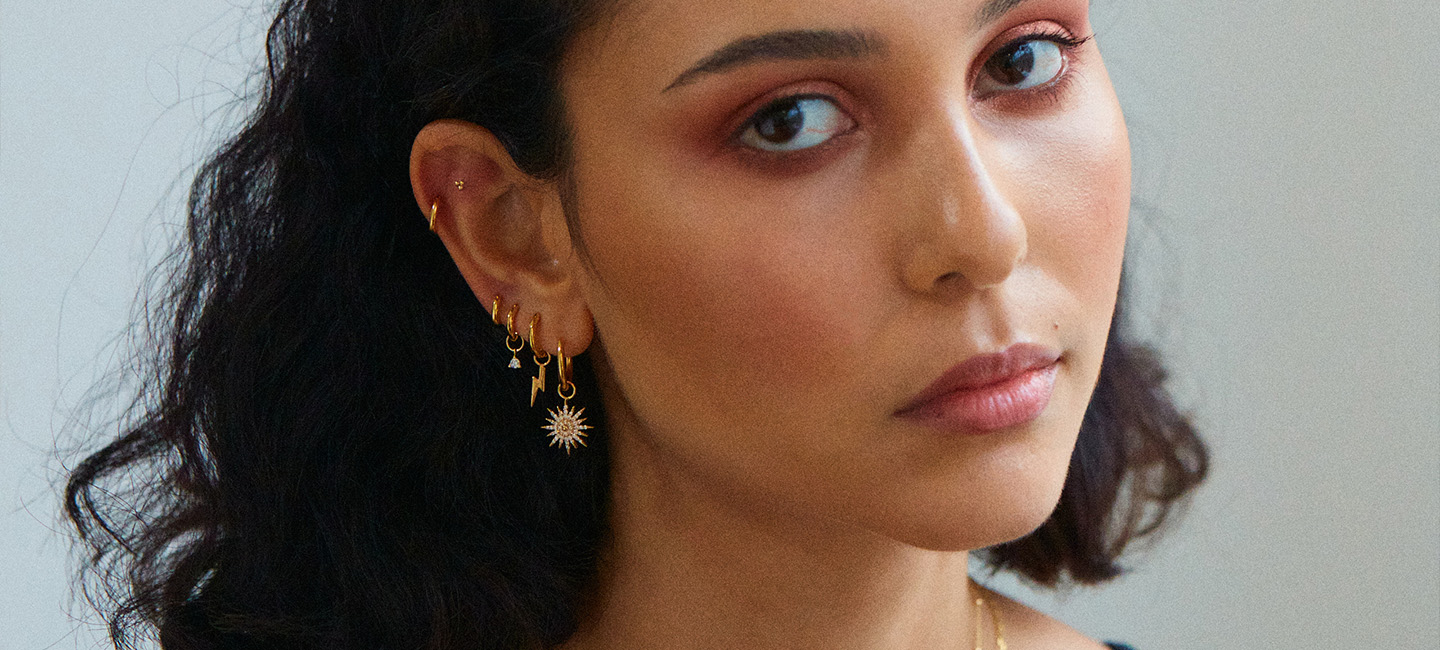 How to save in the cost of living crisis when shopping for jewellery and fashion
Discover our 6 top tips on savvy shopping.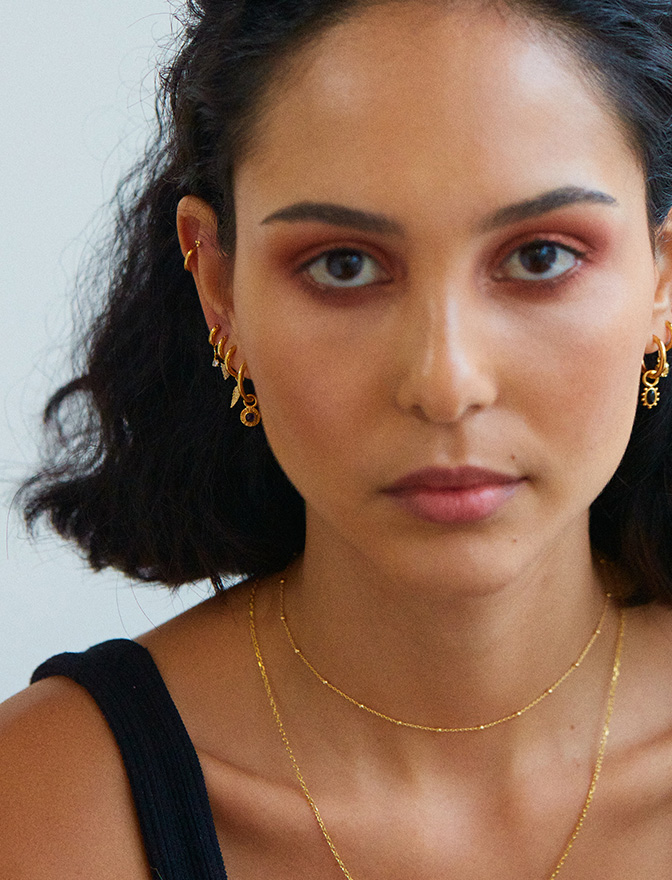 "You can't be innovative without boundaries. So, create boundaries for yourself, and watch yourself flourish."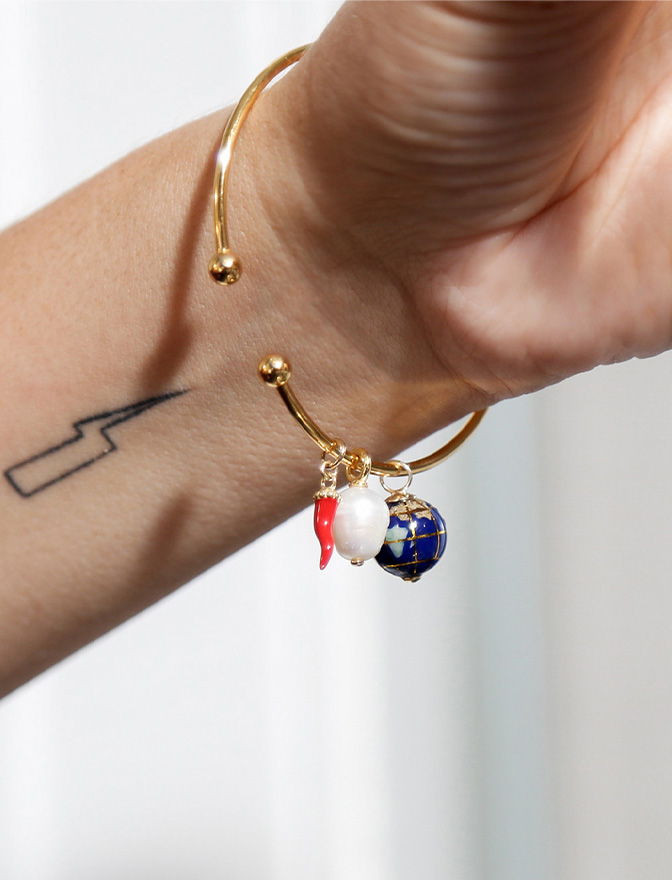 "When it comes to NUE Hoops, we think about our hoops, necklaces and bangles as 'investment pieces' which can be worn season after season."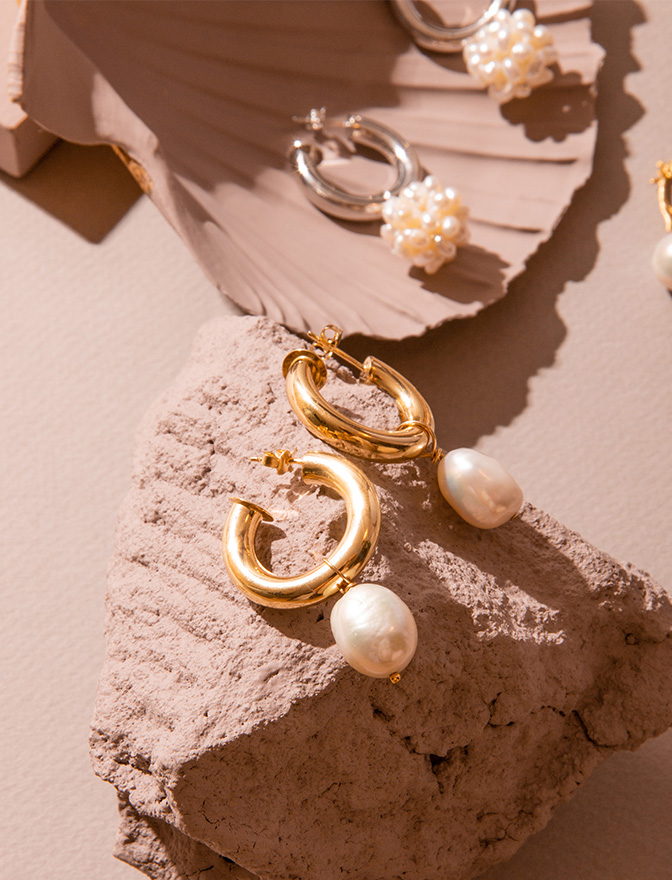 "We've put together themes and organised our collections in ways to ensure you can easily find the right jewellery items for you."
I was always taught that limitations make us more creative…so with the cost of living crisis as a major constraint on our wallets - how can we make smarter style and fashion choices?
Tip 5: Listen to the experts
I particularly like the tips shared by fashion TikTok-er Rabia Abbasi when it comes to understanding the best way to shop. This TikTok is a great reminder for decoding where you are with your wardrobe and style.
For those who have money to spend and want to go deeper into developing your personal style - friend of the brand Charlie Collins offers a bespoke personal styling and wardrobe clearout service called Creative Wardrobe. Her process is fun, enlightening and most importantly I got tips from it which I'll use forever. Well worth every penny.
For something quick and less involved, I also love this blog by Gabrielle Arruda for getting a better idea of your style on your own.
TIP 2: What's your personal style? Knowing it will save you money
Discovering the balance between your personal style and embracing trends can be an ever-evolving mission for some of us.
Your willingness to embrace trends and experiment (or not) with your personal style is likely to be influenced by all sorts of things from your personality, friendship group, stage of life, body type and size, personal situation as well as work / family life.
The most important thing here - learn from past experiences (the good and the bad!).
The dress you discovered that wasn't right for your shape or the trend you thought was great for 5 minutes and then felt silly in…
As opposed to:
The jumper you come back to year after year, or the timeless summer dress that has come out of the wardrobe time and again.
Both instances give you clues to what works for you and what doesn't.
TIP 3: Shop in the right frame of mind to avoid wasting money
Never go to the supermarket hungry - because you know what happens when you do... It's the same with shopping for fashion and jewellery. Shop in the right frame of mind - not on a whim. Try not to shop 'under the influence' - whatever that means for you. Add items to your wish list, bookmark them, save them somewhere until you're ready to shop with a clear head and the right bank balance.
We ship orders every 2 working days, so if you're thinking about shopping with us but you still need to make a decision about what you really want, you won't miss out wildly on timings if you wait a day or two. Chat to us on our website chat or on Instagram to check for low stock if you have a strong leaning towards a particular item and don't want to miss out.
Final note
As a small, independent female-run jewellery business, we're always thinking about how we can do things differently and empower you to do that too, so this blog was written with that in mind. I hope you find the suggestions helpful and are inspired to try something different when shopping for jewellery or fashion.
Repair - when it comes to looking after or repairing your jewellery - there are plenty of options - we suggest repairing hoops that have bent out of shape yourself on our 'care for your jewellery' page. Taking care of your jewellery in the first place is key, especially storing it in a jewellery wallet or pouch.
You can also invest in a jewellery cleaning machine or by hand, make sure you have a good silver cleaner and polishing cloth - all of which are magic for cleaning your jewellery. Just be careful when cleaning anything with stones in it.
We also encourage you to re-plate where possible and affordable - just get in touch with customer.services@nuehoops.com to ask more about this as a service we can offer.
For cloths, local dry cleaners, someone you know who is handy with a needle and thread, The Restory for more intricate jobs. And if you have time, there's always YouTube for a DIY job.
TIP 1: Work out where you stand on investment v.s. cost-per-wear, to shop smarter

Vowing to buy 'investment pieces' is great if you have the money to spend on said investment piece, but that's not always an option, unless you've really planned ahead. If you want to be more of an 'investment' shopper - it's all in the planning (and saving).
Identify the high quality items you know you'll wear season after season (some classic hoop earrings or a necklace, plain t-shirt, classic jeans, a good coat or bag) and add them to a Pinterest board. Then set up an alert or join the mailing list. You can also install a browser extension like Otsledit that will notify you when a price changes.
For some brands, cashback and coupon sites, like TopCashBack or Honey, are also a good place to look for saving for your investment piece.

If the investment piece route isn't for you, you could consider thinking about cost-per-wear before you buy.

Cost-per-wear over a specific period (e.g. 1-2 years) helps you make better shopping decisions. The '30 wears challenge', made popular by Livia Firth, which dominated a number of years ago can be a helpful guide, especially for more on-trend items that are good quality.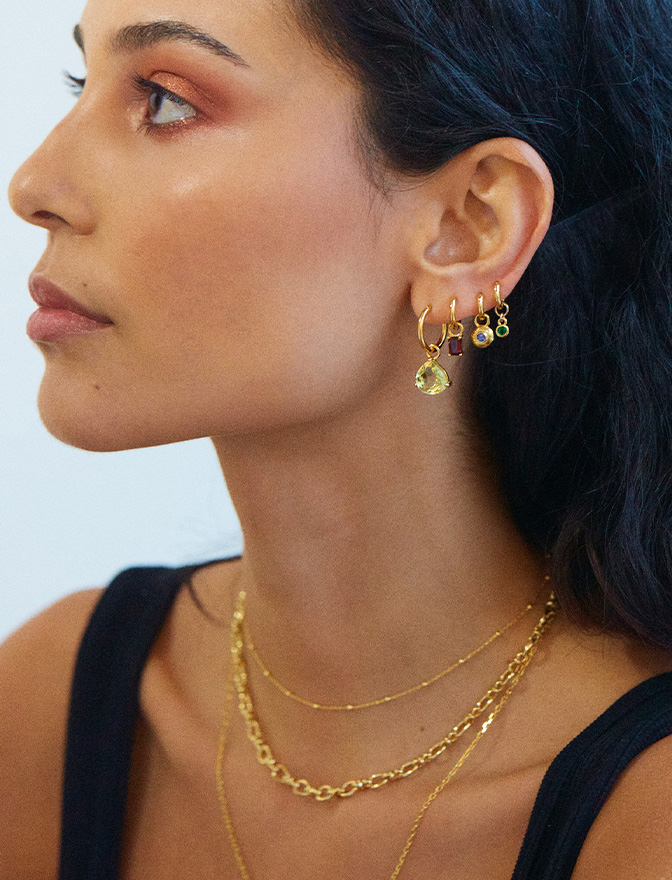 Tip 6: Swap, rent, sell or repair
For the most part, you're more likely to repair or clean your jewellery than anything else, although you might want to swap particular items with friends.
Swap - with NUE Hoops, you can easily swap charms without having to worry about hygiene so that's worth exploring if you and your friends have a good collection between you.
When was the last time you swapped clothing with a friend your size? If you can think of friends who are a similar size to you whose clothes you love, why not suggest a clothes swap and include jewellery you're comfortable swapping such as NUE Hoops charms.
Rent - so many rental sites, so little time! These can be expensive on a cost-per-wear basis, so are really best for accessing items you'd never otherwise be able to afford for special occasions like weddings or events. However, if you're really hankering after something high end, it's a great option. If you want to test out an investment piece, it's also a great way to decide if you want to invest in that item forever. My favourite sites include: Hurr, MyWardrobe & By Rotation.
Sell - nothing new here. Depop, eBay, Facebook marketplace, Cudoni (for designer items) to name just a few. People often also sell on Instagram and local groups like Next Door.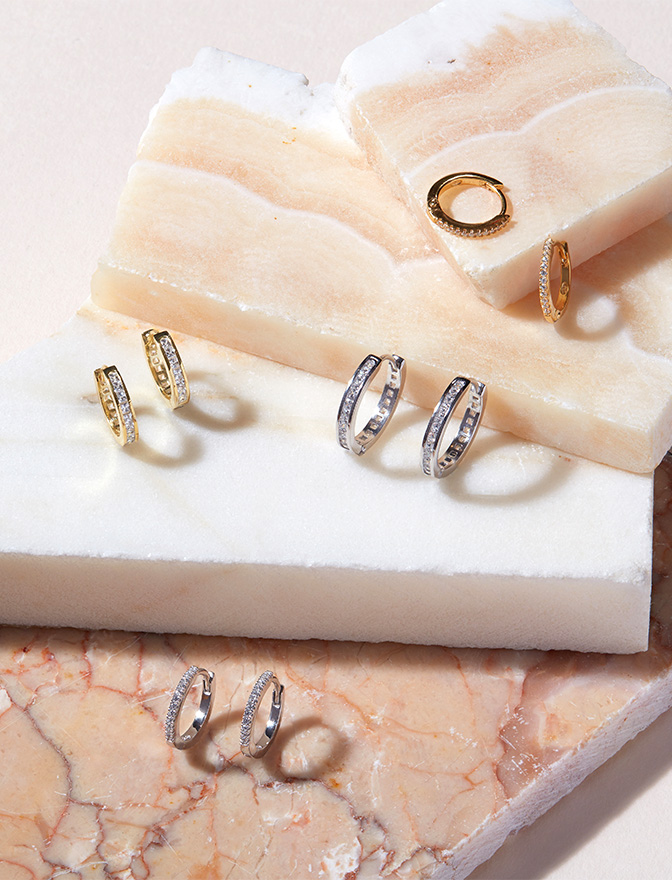 TIP 4: Embrace versatility
NUE Hoops jewellery is all about versatility. When it comes to wearing, styling and reimagining your jewellery, our reason d'etre is to help you reinvent our interchangeable jewellery. We find it's not only rewarding, but also helps save the planet - as well as your bank balance.
The interchangeable scene has moved on a long way since the reversible t-shirt or bikini so now more than ever, being practical doesn't have to be at odds with being stylish.
There are lots of brands doing 'interchangeable' now: whether it's swapping the strap on your handbag (from Fendi, Louis Vuitton and Christian Dior to more affordable options from Apatchy, Pom Pom London and Meg & Bee, to even - the strap on your shoes, your watch or your belt. There are even brands out there that enable you to change the heel on your shoes (yes you read correctly).
For homewares, simply swapping a cushion cover or the scent in your candle pot, as Pott Candles (friends of the brand) are doing, gives you the option to think more carefully about your consumption and waste.
For NUE Hoops, we're proud to have a sustainable jewellery concept at the core of our brand - making your items last longer, getting more wear out of them and helping them to flex for different occasions.
Shop our bangles, hoops, and charm clips to bring your interchangeable jewellery to life in new ways with all kinds of styles of charms to add to them.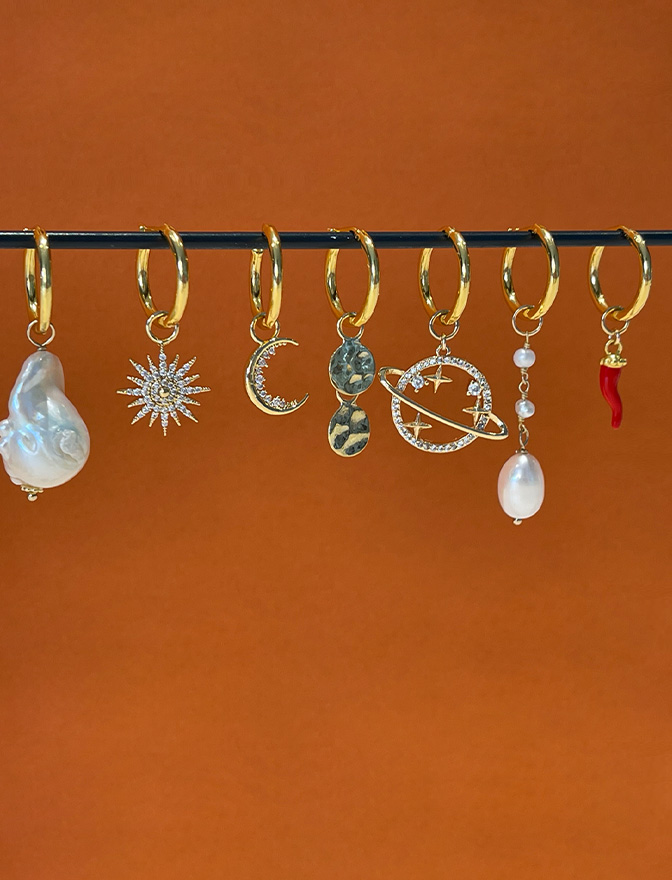 ---