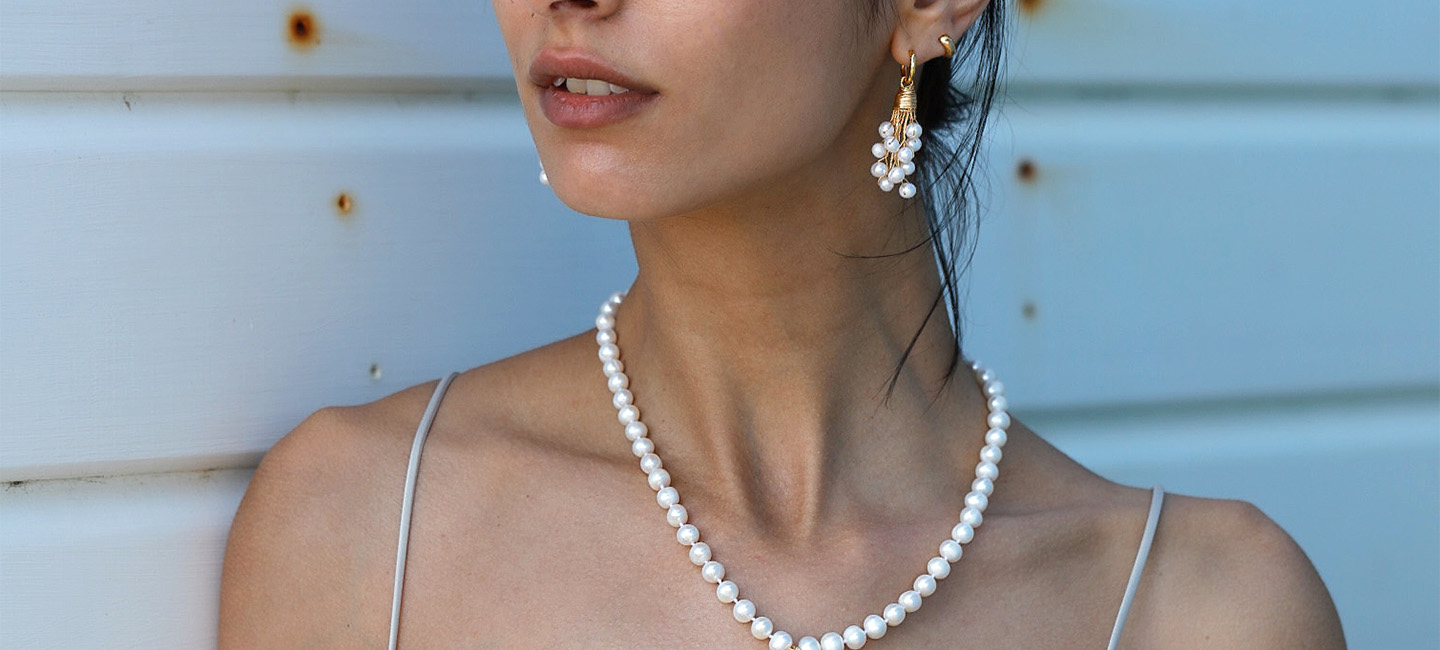 The go-to guide for choosing the perfect bridal jewellery
How to approach your wedding jewellery to create your own wedding set, or mix and match meaningful jewellery for various bridal looks. Plus personalised bridesmaids jewellery.
If you're getting married this summer, then one of the most exciting things about planning your wedding can be choosing the jewellery for your wedding day.
Wedding season in the UK is underway, and being a stylish bride without spending a fortune is now SO easy. You're spoilt for choice. 
When it comes to looking for bridal jewellery that will look great and doesn't blow your budget out of the water, start with thinking about the kind of bridal styling you want to create – whether you'd prefer a bridal jewellery set or a curated mix of different jewellery pieces.
Working out your ideal look for your wedding day – and the accessories to bring this to life – might seem daunting initially as there is so much choice. But there's no need to feel overwhelmed. We'd recommend putting together a Pinterest board and collecting key images that inspire you to make the process more fun. If you're having a theme, for example, search for images that match that theme and see how they come together on a Pinterest board.
Drawing inspiration from other people's weddings is a great place to start as there are so many images on social networks such as Pinterest and Instagram to take inspiration from. Using hashtags like #bridaljewellery should give you the chance to find all kinds of bridal jewellery sets that match different themes.                        
TIPS FOR CHOOSING YOUR WEDDING JEWELLERY
Traditionally, bridal jewellery is often dainty and delicate. Right now though, there are so many more options to create whatever bridal jewellery style you want – whether that's bold and striking pieces, like our chunky hoop earrings or some of our more abstract earring charms, or whether you prefer that's something more akin to dainty sparkling hoop earrings with crystals or pearls. Most designs are available in gold or silver, as opposed to rose gold (which is rarer) and other colourways such as oxidised silver. 
There's now a lot of scope to tune your bridal jewellery set to your own individual style. Below are some tips for maximising your choices to make sure you've thought of everything when it comes to the jewellery for your wedding day.                
CHOOSE A NECKLACE AND EARRINGS THAT SUIT YOUR NECKLINE
It sounds obvious, but in case you've not already thought of it, choose your jewellery after you know what the rest of your outfit will look like. 
Ultimately, you want your bridal jewellery to suit the outfit you've chosen, particularly around the neckline if you plan to wear a necklace. Wear jewellery pieces that accentuate your dress or two-piece without overshadowing it - unless you're going for a very statement look - in which case, anything goes!    
A good tip for your necklace is that you'll probably want it to sit on your skin, not on your dress; so choose longer necklaces with pendants for V-neck dresses or chokers for strapless dresses and top halves with lower necklines.
INCORPORATE YOUR PERSONAL STYLE
Wedding jewellery has gone through many different trends and styles over the years (think what your mum, aunt or family members wore at their weddings). If you tend to wear more conservative jewellery day-to-day, statement pieces aren't essential if you'd be more comfortable in something more modest. Don't feel you have to go all-out just because it's your wedding day (unless, of course, that is what you want to).
We recommend choosing earrings, necklaces, rings and any other jewellery that aligns with what you love. Do still experiment, but don't feel the need to sacrifice your own style. Remain true to yourself and the rest will fall into place.      
BUILD AROUND JEWELLERY WITH SENTIMENTAL VALUE
Don't forget about sentimentality; if there are any sentimental pieces in your or your family's jewellery collection, consider how you might work them into your outfit if that's important to you. Family heirlooms or cherished gifts can make the day feel even more special. If you do want to include them, choose these first and build the rest of your wedding jewellery set around these pieces.
We've had brides who have worn their own diamond hoop earrings and accessorised them with our earring charms (the Ada pearl earring charm is a popular choice). We've also had brides who have bought one of our necklaces and customised it with a family pendant they already owned.
If you want to do this, we recommend buying a gold charm clip or a silver one, as your existing pendant may be able to go onto the charm clip and onto the necklace you've chosen.
Wearing jewellery with a deeper meaning and customising it or reinventing it with our jewellery is  one way of making your wedding style your own.                           
As many people know, the saying "Something old, something new, something borrowed, and something blue" is an old adage for what to wear on your wedding day. You can use this as a structure for how to think about your jewellery too, meaning stones such as aquamarines or man-made sapphires from our birthstone jewellery collection could be the ideal choice for complementing your bridal jewellery set.
WHAT TYPES OF BRIDAL JEWELLERY SHOULD YOU LOOK FOR?
When it comes to finding wedding jewellery, many jewellery brands will have their own bridal jewellery collections to build your set from.
This is an ideal place to start if you're looking for inspiration. You'll typically find a lot of gold and silver jewellery, with pearls also very popular at the moment. Don't be shy to mix and match across brands in search of the perfect jewellery – combining different brands and curating your own combination is half the fun.
We've seen quite a few brides opt for our huggies for their wedding day - particularly the Celeste and Callie huggies as they offer subtle sparkle that is stylish and feels relatively classic, whilst not detracting from their dress or chosen outfit. 
OUTFIT CHANGES AND WHAT HAPPENS AROUND A WEDDING
It's also worth keeping in mind that weddings typically involve more than just the ceremony, and that you might want different outfits or jewellery for all of these occasions:
The hen do

Your wedding registration

The evening party or next-day celebrations
One way to simplify your jewellery collection is to have a selection of different earring charms for each moment, swapping them as and when needed – such is the beauty of the NUE Hoops concept. 
Styling for each day can be really fun and easy with our interchangeable earring charms, you can  wear a single pair of hoop earrings and switch the charms as you like . This can completely change the look and feel of your outfit , whether you need something playful from our party jewellery when you're on your hen do, or something more classic, and unmistakably bridal when walking down the aisle on your wedding day.
DON'T FORGET YOUR BRIDESMAIDS - IF YOU HAVE THEM!
Finally, here are some tips when choosing jewellery for you bridesmaids.
If you're going down the earring charm route, you could match your bridesmaids' hoops and choose charms just for them, – such as birthstone charms. The same goes for necklace charms.
Alternatively, you might wish to have your bridesmaids mix and match their earrings, with one of the same charm to signify unity with you, along with a charm of their choice to express their individuality. The nature of having interchangeable charms means that they can enjoy their jewellery beyond your wedding day as well.
Your bridesmaids could also choose their own combinations of charms,  leaving the matching to the hoops, tying your outfits together in a more subtle way. 
BUILD YOUR MODERN BRIDAL JEWELLERY SET WITH NUE HOOPS
We have a large collection of bridal jewellery including on-trend necklaces as well as hoop earrings  and earring charms – meaning you can customise your jewellery with our interchangeable charms. We only sell online but have fast UK delivery (next working day options available), or you can use our international shipping option which can arrive in around 5 days.     
Most jewellery brands and jewellers will be open to helping you with personalised recommendations - for you or your bridesmaids and family members. We love helping you find the perfect jewellery for your wedding and have helped many brides on Instagram and our website chat, guiding them with their choices. If you want to email us for more in-detail questions, definitely get in touch - we'd love to help.             
Browse the collection today and do contact us if you're looking for bespoke recommendations and styling tips.
---