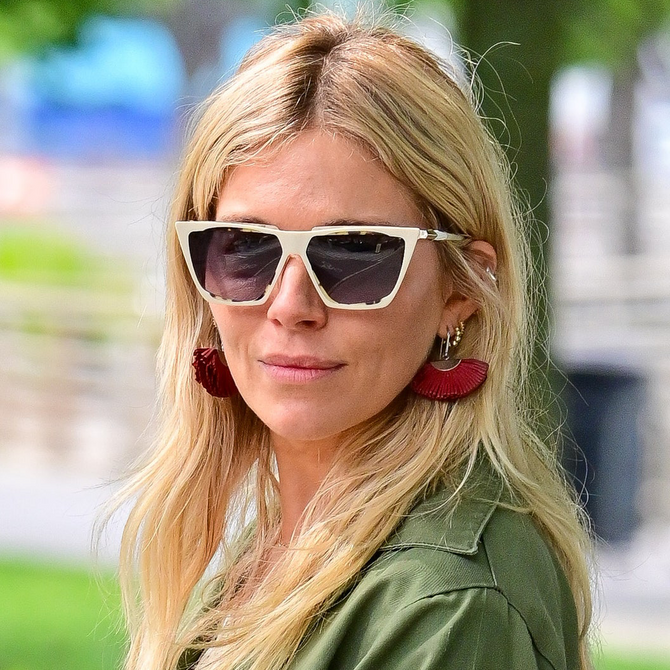 Our favourite celebrities wearing NUE Hoops
The celebrity women we've spotted wearing NUE Hoops are (unsurprisingly) similar to our customers - smart with a sense of fun and fully in charge of their own style. Four of the biggest celebrities (that we can talk about publicly) are seen here in their chosen NUE Hoops. Find out more about Florence Pugh's jewellery choices; how Sienna Miller styles her earrings, which earrings Stacey Dooley wears and how Caggie Dunlop manifests her world in jewellery.
Florence Pugh wears our Beatrice Bee charm on the Mili Gold Hoops. A playful choice that is different, yet easy to wear. Spotted on her Instagram Stories in August 2021 doing a cook-along, she mixed and matched Beatrice Bee with a pearl on her other ear, similar to our Ada one. You can get a real sense of Florence's fun-loving spirit on her Instagram. She exemplifies the experimentation and creativity we see in so many of our customers. We also loved her in Greta Gerwig's Oscar & BAFTA nominated film, Little Women. 
The original Boho style queen of the noughties, actor Sienna Miller, was papped in July 2021 wearing our Serena Gold Hoops in her second piercing. Unwavering in her personal style, Sienna represents the stylish boho tribe in every way. She provides the perfect inspiration for anyone wanting to create a low-key, free-spirited style that is rich in texture and interest. Layering up with a Serena Hoop in her second hole alongside the tassel earrings (we don't sell) is visually interesting, as well as cool.
Photo credit: James Devaney
Stacey Dooley, one of our favourite TV presenters, never seems to shy away from bold choices - she manages to pick items that are different whilst being of the moment and classic all at once. Her clever styling adds cool credentials with an individual vibe all her own. She chose Benedetta, and is seen here in a selfie from her Instagram, wearing it on a Mini Gold Hoop, fronted by a Mili Gold Hoop. A simple yet beautiful and interesting combination.
One of the original Made In Chelsea stars, we've always had a soft spot for Caggie Dunlop. Earth mother, yet connected to the heavens, she's spiritual with an innate glamour that shines brightly. Her style is relaxed, but always with an edge, that communicates her gentle but powerful personality. We love listening to her soothing tones on her podcast,
Saturn Returns
, that explores talking points such as love, work and wellbeing. Caggie can often be seen wearing
Astrid
,
Cressida
and
Luna
on her
Instagram
. She's pictured here wearing
Aurora
on the
Mili Gold Hoops
. 
---