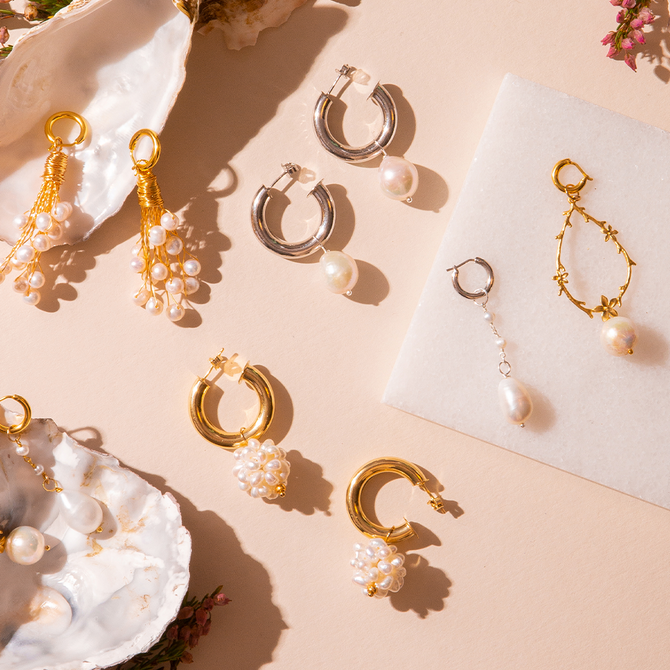 How to be a stylish bride without spending a fortune...
In 2020, a number of our customers came to us to ask which NUE Hoops they should wear for their wedding. This prompted us to create a bridal collection, based on what we knew our brides had been wearing, as well as what we had in our collection already. In July of this year, we added a roster of new items to it, curating fresh combinations for you to choose from. 
Our aim was to create a jewellery collection for weddings and brides that was beautiful, on-trend and affordable. We wanted to give you stylish jewellery that featured a selection of whimsical, classic, chic and bold jewellery; as well as cute and eye-catching pieces. Pearls (big and tiny) feature heavily, as well as statement styles that can be created by you, using our chunky hoops. 
Our focus on creating affordable, yet aspirational-looking wedding jewellery complements a trend that has gathered a lot of momentum in recent years.
Thanks to both mainstream and niche brands, you can now get stunning and stylish bridal clothing for under or around £1,000; and when you think the average UK bride spends between £300 - £2,000 and often more - on just their dress, that's not so bad...
Brands like Reformation, ASOS, Needle & Thread, Rixo and Olivia Rubin all offer trendy options for less than a grand, which leaves us questioning whether the big ticket wedding dress is actually worth it?
Monsoon has romantic lacy dresses that take inspiration from the pre-raphaelites, as well as modern bridal stalwarts. Ghost offers elegant satin wedding dresses starting at £195.
For more modern tailoring, Galvan London have a collection of silk slips and slinky halter neck dresses starting from £675.
If you want something more out there, Solace London offers modern abstract dresses and jumpsuits that are visually exciting. They're also at the more affordable end of the market, with items starting at £310. Clover London's dresses are fun and non-traditional and each priced at £1,000.
For fashion forward pieces you'd more likely find on the runway, go to The Fall, which might be a personal favourite...It has a carefully curated selection of dresses, from vintage inspired delicate organza dresses to 60's style wool mini dresses as well as playful veils. Prices are around the £1k mark.
Finally, for a one stop shop for pre-wedding fun, head to Gigi & Olive for the ultimate hen and honeymoon accessories. 
To make it easy, we've scouted our favourite stylish and affordable bridal outfits to wear with your NUE Hoops for combinations to fall in love with.
Just don't forget to choose your hoops for them to go on...
Whimsical
Needle & Thread Dress. NUE Hoops Florence Charm.
Short & simple
Galvan Dress. NUE Hoops Coco charm. Coco is available in silver.
Directional

Romantic
The Fall Bride Dress. NUE Hoops Amelia Charm. Also available in silver.
Playful
Clover London Dress. NUE Hoops Pearl Puff charm. Available in gold & silver. 
Cheeky
Olivia Rubin Dress. NUE Hoops Agatha charm. 
Glamourous 
Galvan Jumpsuit. NUE Hoops Emelie Charm. 
Classic 
Ghost Dress. NUE Hoops Ada charm. Also available in silver.
Glossy 
Solace London Jumpsuit. NUE Hoops Aurora Charm. Also available in silver.
 Traditional
Monsoon dress. NUE Hoops Grace charm. Also available in silver.
---